Conditioned Warehousing to perfection
High-quality storage for conditioned goods
Conditioned Warehousing to perfection
High-quality storage for conditioned goods
Sealane has two modern conditioned warehouses with capacity for over 21,000 pallets. We offer storage for a wide range of refrigerated goods, both food and non-food. With over 40 years of experience in this industry, your goods are in safe hands. Thanks to waterfront cold stores on private deep-sea quays, we can quickly move goods from ship to cold store.
Are you in need of conditioned storage space? Contact us today for a quote.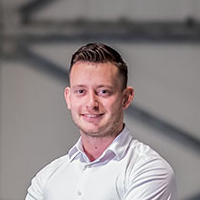 What are your challenges?
Jorn Verburg is available for questions and quotes.
We keep it cold, ice-cold
State of the art cold storage
At Sealane, we strive to provide you with the best solution. Quality, safety and customer satisfaction are at the core of everything we do. To stay ahead of the game, we recently invested in a new and 'state of the art' conditioned warehouse. Besides having the latest tech, this warehouse is equiped with solar panels and its temperature is controlled by a natural refrigerant to have no negative environmental impact.
Our conditioned warehouses are designed and equipped for maximum handling and storage efficiency, including fixed and shuttle racking. Our cold storage cells can be preset individually to the customer-required temperatures.
In everything we do, we make sure that cleanliness, hygiene, and order are maintained at all times. Sealane works according to the following standards:
Ready for high demanding tasks
Frozen fish and other food
We safely store several types of frozen products, such as fish, crab, bakery products and many other types of food.
On request we can support you with weighing, labeling, polywrapping, sorting and more.
Our flexible warehousing facilities offer space for any type of goods. We can store breakbulk and in (shuttle)racking, both long- and shortterm.
Sealane provides you with a full range of custom and veterinarian documentation (custom clearance, health certificates, etc).
Our experienced crew can take care of loading and discharging any type of frozen goods.
Over four decades of cold storage experience combined, with our prime location guarantee that our customers has the best place to store valuable conditioned goods.
Geralt Vels
·
Managing Director